American Flag Mallet Putter Cover DURA+
This product is sold out
The American Flag Mallet Putter Cover
Our American Flag mallet putter headcovers are constructed with Cayce's soft & heavyweight polyester/spandex outer cover with a sublimated American Flag stars and stripes design and a plush oatmeal inner lining. Cayce mallet headcovers also feature a strong magnet closure with just the right amount of strength to never fall off or jolt off your putter unexpectedly, but easy enough to slide off when you're walking up to the green. Cayce magnetic mallet putter covers accommodate most mallets putters the market today and from the past 5 years from all major manufacturers including, but not limited to: Titleist Mallet Putters, Ping Mallets, Mallet Putters by Taylormade, Odyssey Mallets, Scotty Cameron Mallet Putters, and Mallet Bettinardi Putters.  
The Cayce mallet putter covers protect the clubs from striking each other and from weather and incidental damage while in the bag, as well as make clubs more identifiable at a glance, and provide a personal touch to a player's bag. 
While our mallet headcovers are made in the USA and construction is top-notch, they are not your traditional style headcover made from vinyl or leather. Our feel and style is less stuffy old country club and more let's have a good time and look great doing it. All of our mallet head covers are machine washable (cold/tumble dry).
Highlighted Features of the American Flag Mallet Headcover:
Soft, Heavyweight Polyester and Spandex Outer Cover

Sublimated USA Flag Stars & Stripes Pattern

Plush Oatmeal Inner Lining Material

Strong Magnetic Closure

Machine Washable (Cold) / Dryer Safe (Tumble Dry Low)

Fits Most Popular Models of Mallet Putters.

Made in Boston, MA USA.
Customer Reviews
Write a Review
Ask a Question
SM
05/27/2020
Scott M.
United States
'Merica
Great fitting cover. I got 4-5 compliments the first day out with it. Also, it's guaranteed to help you never miss a putt again or Cayce will refund your money. NO QUESTIONS ASKED
05/21/2020
EMILY D.
United States
Great product...
Love this putter cover! Great value and quality. Highly recommend
05/02/2020
Mitch W.
United States
04/27/2020
Ted C.
United States
Not exactly red
Quality product. Fast delivery. Great order communication. I was expecting the red stripes to be a darker red. The color is almost salmon. I will keep but not 100% satisfied. Thank you.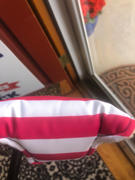 Ted, thanks for the feedback. We try our best to match the actual flag colors (it's not a true red), but looking at the main product image now I can see what you mean. I have already had our team swap out the main image to one that is more accurate. Please let me know if you'd like to return or swap it out for another model, it's not an issue for us and I'd hate to see you 70% satisfied! Steve @ Cayce