New DURA+ Floral Headcovers for Drivers & Fairway Woods
Add some style to your bag with our Floral Print headcovers that feature a beautiful vintage floral design, our new long-lasting DURA+ 500D polyester outer cover that is resistant to water, stains, mildew, and abrasions. A plush oatmeal inner lining keeps your clubhead safe from dents and scratches while featuring an elastic inner lining that ensures your cover never falls off your Driver or Fairway Woods unintentionally. Our headcovers will fit all current 460cc Drivers and Fairway Woods, if there's a sizing issue, fear not, as we will offer no-hassle refunds within 30 days from the date of purchase. All headcovers are machine washable (cold/tumble dry). 
View all of our Floral Headcovers or check out the Floral Mallet Putter Cover and Floral Hybrid Headcovers.
Want to see real customer images of Cayce Golf Headcovers? View our tagged head cover photos on Instagram.  
Highlighted Features of the DURA+ Floral Headcovers
NEW Durable, Water and Stain Repellent DURA+ 500D cover. 

Vintage Floral Print Design, Woven Product Labels

Plush Oatmeal Inner Lining Material Protects Clubhead and Hides Dirt

Strong Elastic Inner Liner

Machine Washable (Cold) / Dryer Safe (Tumble Dry Low)

Fits Most Popular Models of Drivers (460cc) and Fairway Woods

Driver Headcover Dimensions: 11 inches × 5.5 inches

Fairway Wood Headcover Dimensions: 10 inches 5 inches 

Quality-made in the USA
Customer Reviews
08/11/2020
Alex B.
United States
Great Cover!
Bought this for my wife, she absolutely loves the pattern! Quality is superb. Cover goes on and off the driver with ease. Will probably complete the set for her at some point.
07/27/2020
Madison S.
United States
Floral driver cover
My boyfriend loves it!! It's in great condition and came really quickly!
Love to hear that, Madison! Thanks for letting us know! -Steve at Cayce
07/27/2020
John B.
United States
Worth the wait
Waited a little while to get this headcover as it was out of stock. Signed up for the email update when it was back in stock. Received the email and purchased one right away. Email was prompt, and website gave accurate estimated date of items returning to stock. Headcover arrived faster than estimated shipping time as well. The product is beautiful, fits my driver perfectly, and just looks overall classy on my bag. Now choosing headcovers for my 3 wood and hybrid.
John, I appreciate the thorough review. It means a lot. Sorry about having to wait for this to come back into stock, we've switched manufacturers and are on the road to keeping items in stock at all times. Glad you liked it once you finally received it! -Steve at Cayce
05/18/2020
Adam L.
United States
Excellent purchase
Fantastic quality item. Feels more durable that I imagined it would be. Soft lining on the inside.
Thanks for the review Adam--that's DURA+ for you! -Steve at Cayce
05/15/2020
Jay P.
United States
Boss
Excellent quality and lots of swag!
04/27/2020
Alex G.
United States
Great purchase
Fantastic product
Thanks, Alex! Appreciate the feedback and happy that you like it. -Steve @ Cayce
04/20/2020
Andy B.
United States
Literally the best
I got this head cover today and I am beyond excited to finally have a kick *** hybrid cover. This doesn't have a sock running down the shaft so it doesn't looks like garbage. The interior is lined nicely to keep that head looking sharp. Great pattern, amazing quality. Thanks for knocking this out of the park Cayce Golf!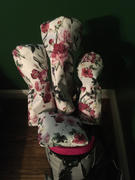 Andy! That setup is sick, the floral is my favorite pattern we have. Also, that Jones bag is as good as it gets. Definitely jealous of your setup at the moment. Thank you so much for taking a minute to review the headcover AND post a picture! -Steve @ Cayce
03/02/2020
Max S.
United States
killing time
very durable. fits nice. stay classy. #nocaps
Max, I'm honored that we were able to fill the void for you :). Thanks for the review! -Steve @ Cayce
02/26/2020
Ethelyn S.
United States
Love it!
It was out of stock when i saw this cover online. Im glad i waited. It looks so beautiful and the quality is really good. Perfect for my stich golf bag.
SW
12/14/2019
Spencer W.
United States