Sold Out
Green State Outline Putter Cover
This product is sold out
Green State Outline Putter Cover
The First Major of the Year Themed State Outline Putter Cover is constructed with Cayce's Heavyweight Polyester/Spandex outer cover with a sublimated design and a plush inner lining. The Putter Headcover also features a strong magnetic closure with just the right amount of strength to never fall off or jolt off your putter, but easy enough to slide off when you've hit the dance floor. This Putter Cover style fits almost all blade style putters with all shaft styles (offset, heel, centered) and also fits most mid-mallet style putters with those previously listed shaft types.
Cayce Putter Covers are not your traditional style head cover made from vinyl or leather. While our putter covers are made in the USA and cover construction is top-notch, our feel and style is less stuffy old country club and more let's have a good time and look great doing it. Our headcovers are machine washable (cold/tumble dry low).
Highlighted Features of the Cayce Putter Cover:
Polyester and Spandex Outer Cover

Sublimated Design

Plush Inner Lining Material

Strong Magnetic Closure

Machine Washable/Dryer Safe

Fits Most Blade & Mid-Mallet Style Putters



Made in the U.S.A.
Customer Reviews
08/15/2019
Kendra K.
United States
JL
07/02/2019
Jared L.
United States
Product and Service
Steve is a fantastic customer service representative. I had issues with my product, originally, and he was incredible. Some of the best customer service I have ever experienced. Now, in terms of my new product, its the best. You guys are doing some great things for golf, and I continue to push your product for both reasons!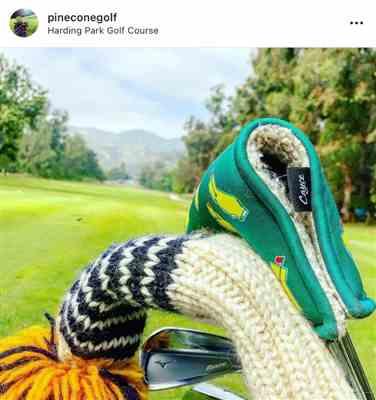 Question
When will these be back in stock?!
Next year around Feb/Mar. These are all made to order.
06/02/2019
Michael K.
United States
Great piece!
What a beauty and wonderful way to show state pride!
06/02/2019
Michael K.
United States
Great piece!
What a beauty and wonderful way to show state pride!
Thanks for the putter cover review Michael! Glad you liked it :) -Steve @ Cayce
05/12/2019
Louis M.
West Virginia
Masters State Putter Covers
Head cover is quality. The magnet closure is super strong. The green is not as green as the picture. I don't have social media, so I will miss out on the 50% off offer. Still love it. Wish I could say the same about my putter.
Thanks for the review Louis, sorry to let you down on the color. We made a last minute decision to go with the official "green Jacket" green. -Steve @ Cayce
05/11/2019
Kendra K.
Iowa
Great Putter Cover
I preordered my custom state putter cover and was patiently waiting to receive it. When it arrived it exceeded my expectations! The material is breathable, but strong and the state graphics are clear and bright. The magnet is very strong and it looks great on my putter! Thank you!!
Thanks for the review Kendra! Glad we exceeded expectations with your putter cover! -Steve @ Cayce
05/10/2019
Stephen C.
Baton Rouge, LA
Love my new head cover!!
Bought a *blue state outline putter cover for my Scotty Newport Notchback. It looks beautiful and fits perfectly. Can't wait to show it off on the links! Thanks Cayce!
Heck yeah! Glad to hear the putter cover looks AND fits great Stephen :) -Steve @ Cayce™