The Jazz Cup Mallet Putter Cover
Our 1990's classic Jazz Cup mallet putter headcovers are constructed with Cayce's soft & heavyweight polyester/spandex outer cover with a sublimated nostalgic Jazz Cup design and a plush oatmeal inner lining. Cayce mallet headcovers also feature a strong magnet closure with just the right amount of strength to never fall off or jolt off your putter unexpectedly, but easy enough to slide off when you're walking up to the green. Cayce magnetic mallet putter covers accommodate most mallets putters the market today and from the past 5 years from all major manufacturers including, but not limited to: Titleist Mallet Putters, Ping Mallets, Mallet Putters by Taylormade, Odyssey Mallets, Scotty Cameron Mallet Putters, and Mallet Bettinardi Putters.  
The Cayce mallet putter covers protect the clubs from striking each other and from weather and incidental damage while in the bag, as well as make clubs more identifiable at a glance, and provide a personal touch to a player's bag. 
While our mallet headcovers are made in the USA and construction is top-notch, they are not your traditional style headcover made from vinyl or leather. Our feel and style is less stuffy old country club and more let's have a good time and look great doing it. All of our mallet head covers are machine washable (cold/tumble dry).
Highlighted Features of the Jazz Cup Mallet Headcover:
Soft, Heavyweight Polyester and Spandex Outer Cover

Sublimated Jazz Cup Pattern

Plush Oatmeal Inner Lining Material

Strong Magnetic Closure

Machine Washable (Cold) / Dryer Safe (Tumble Dry Low)

Fits Most Popular Models of Mallet Putters.

Made in Boston, MA USA.
Customer Reviews
05/19/2020
Ryals E.
United States
Great Product
Great design and overall quality. Totally worth it!
Love it, Ryals! Glad you like it and thanks for the review, means the world to us. -Steve at Cayce
03/20/2020
Eric S.
United States
Awesome
Great cover. Fully protects my Spider X with no issues. The magnet is strong and easily comes on and off. The inside lining feels great. No regrets buying this product.
Eric, I sincerely appreciate you taking the time to write this review! Took us a while to get that magnet right, glad it works. Send us a picture of this bad boy on the course! -Steve @ Cayce
02/13/2020
John C.
United States
Great Product!
I am very happy with the quality of the item, from the design to the quality of materials. I am giving 4 stars due to the time it took to receive the item being well past the original estimation (received 4 months after original date), but I am sure there are changes being made in the process to prevent that issue in the future.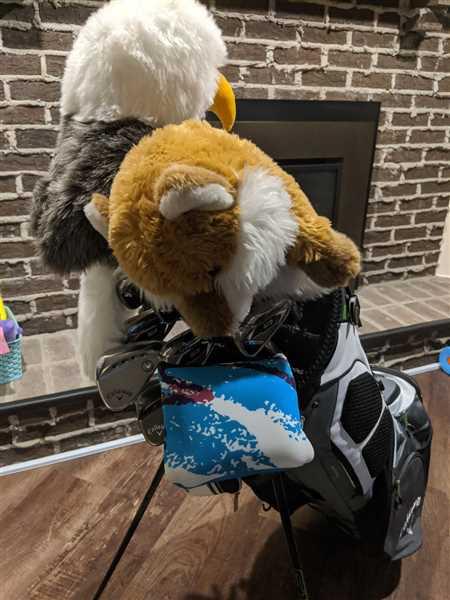 John, thank you SO much for leaving a review. As I mentioned to you, I appreciate you hanging in there with us during our production delays. We have made one significant change that *should* eliminate delays completely--no more Pre-Orders! From now on, if you can pay for it, it's in stock and therefore ship within 24 hours. Again, from the bottom of my heart THANK YOU for taking the time to post your bag and write the review. -Steve @ Cayce