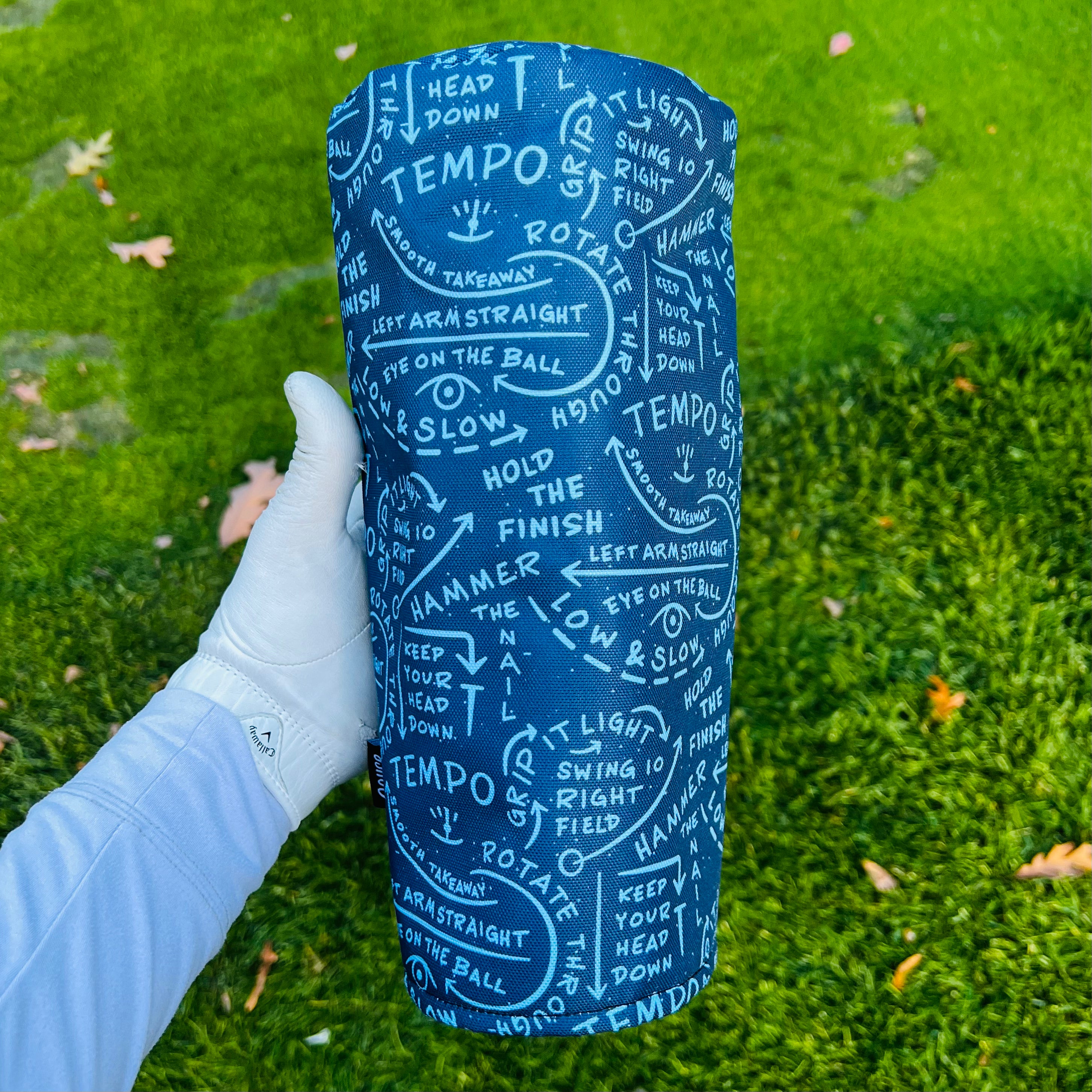 Swing Thoughts Golf Head Cover
Swing Thoughts Golf Head Covers for Drivers and Fairway Woods
Design
NEW: Just released for the fall--Swing Thoughts!

Fit
Looking for that perfect fit? A head cover that is easy to slide on and off?This head cover slides on and off like butter, and thanks to the engineering of our hidden inner elastic liner it won't fall off unintentionally. That inner fur liner? It's the thickest, softest one we've ever seen in a headcover keeping your clubs safe from hitting each other and free from dents and scratches.
Construction
Hand crafted in the USA, our head cover construction and quality consistently impresses—we will not tell you it will last forever (nothing does), but it will outlast that head cover that came with your club thanks to our DURA+ cover that is resistant to moisture, mildew, dirt, and UV rays. If it does get dirty over time, you can spot clean our headcovers with warm water, a sponge, and some Fabuloso.
This unique headcover will make you or the golfer you are gifting it to the envy of their foursome. Others WILL go out of their way to compliment you. You have been warned. Add a touch of personality to your golf bag today! Don't take our word for it, read thousands of Cayce head cover reviews.

Gifting
Gifting this item? If so, we'd suggest ordering the "Driver" size option. This is a club that everyone carries in their bag and usually the one golfers tend to spend the most on. Looking to gift more than one? Grab a Driver Headcover and a Fairway Wood Headcover size. Almost all golfers will have both the Driver and Fairway Wood clubs in their bag.
Highlighted Features of the DURA+ Swing Thoughts Head Covers
DURA+ Construction > Resists water, mildew, stains, and UV rays
Plush Inner Lining > Your clubs stays safe from scratches and dents
Engineered Elastic Grip > Won't fall off unintentionally
Vibrant Design > Will attract compliments & make your foursome jealous
Perfect Fit > Tested with all modern Drivers and Fairway Woods
Hand Crafted in the U.S.A. > Quality + Support Local Business
4.8/5 Stars > Over 2,000 Verified Customer Reviews
Award Winning > Experts from Golf Digest + MyGolfSpy Agree
No Questions Asked Returns > Stress Free Return Policy
Spot clean with warm water and Fabuloso > Easy to clean
Available for a limited time only from Cayce Golf > Exclusive