Transfusion DURA+ Driver & Fairway Wood Head Cover
The FadeGolfnStuff × Cayce Golf Transfusion Headcover Collaboration features dancing Transfusion Cups in Teal, White, and Black. Headcovers are constructed with Cayce's new DURA+ 500D durable Polyester with a sublimated design and a plush oatmeal inner lining. The Headcovers also feature a strong elastic inner lining with just the right amount of strength to never fall off or jolt off your Driver or Fairway Woods, but easy enough to slide off when you're teeing off. This Golf Head Cover style fits almost all current Drivers and Fairway Woods. 
Highlighted Features of the Transfusion Head Cover:
Polyester and Spandex Outer Cover

Sublimated "Dancing" Transfusion Design

Plush Oatmeal Inner Lining Material

Strong Elastic Inner Liner

Machine Washable/Dryer Safe

Fits Most Popular Models of Drivers and Fairway Woods.

View the Navy Transfusion Golf Head Cover. 
Design by FadeGolfnStuff

Made in the U.S.A.
Customer Reviews
09/02/2020
John P.
United States
Best head over I've ever purchased
Great addition to the bag. Very nice quality
08/14/2020
kyle l.
United States
08/12/2020
Gregory L.
United States
Exactly what I expected
Golf bag looks better with this club cover in it. All that needs to be said.
07/25/2020
Josh D.
United States
Dope
Instant statement piece! Comments galore from the range to tee box everyone's a fan.....except my wife
Can't please everyone, Josh! Glad that you're loving it. Thanks for writing a review as well, they help a lot. -Steve at Cayce
07/15/2020
alex l.
United States
Hot fire
This head cover can get you more tail than Lamborghini Covered in ******* with puppies crawling out of it outside a sorority house. I might **** at golf but at least I look fly. This is my go to gift forever.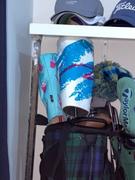 Alex you are 100% correct--looking fly is ALL that matters. -Steve at Cayce
06/08/2020
Alex H.
United States
Haven't Received It
Ordered on 5/14.... currently 6/8 and haven't received it. I ordered this for my friends birthday and give to him before our annual golf trip, but it never showed. It is USPS fault for losing the package, but the lack of communication in regards to helping me get the item has been nonexistent from the company. Pretty disappointing.
Alex, I am sorry that we couldn't do more. The item was just scanned out of a distribution center yesterday (6/7), it isn't lost--just taking too long to get there. USPS, UPS, FedEx have all been struggling since Covid-19. If we had one in stock, we would have sent another, but we don't even have any to offer you in the meantime while this one is in transit to you. I completely understand you're position here, I would have been extremely upset if my package took 3+ weeks to be delivered. I'm sorry we could help more on this. -Steve @ Cayce
05/22/2020
JONATHAN F.
United States
Black transfusion
Really cool headcover. Love the black. Material seems very durable.
05/13/2020
John S.
United States
Unique
Love my new head cover, talk of my guys, everyone wants to know where I got it. Looks great.
05/13/2020
John R.
United States
Great head cover
Looks great. Fantastic material. Love it.
05/13/2020
Paul W.
United States
New Dura material transfusion and skulls headcovers
Love the new material, definitely pops in the bag. Looking forward to more stock in the fw and hybrid selections. Thanks for such quality products.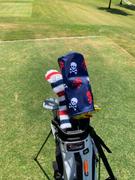 Glad you're liking the DURA+, Paul! Thanks for the picture too. We'll be getting more stock in soon. -Steve at Cayce